How to activate the pro version of Easy form builder
Unlock the full potential of Easy Form Builder by activating the pro version today! With automatic updates and support, you'll never have to worry about missing out on new features or encountering bugs.
Discover the power of Easy Form Builder and take your form creation to the next level with these amazing features:
Create any type of form
Survey(Polls) forms
Subscribe forms
Login forms
Register forms
Form validation
Support Left to Right languages
Support Right to Left languages
Export of subscribers list
Instant reply functionality
Switch Button
Button group
Download Survey dataset CSV
Multiple Select
Add External Links
Countries Dropdown List
Insert HTML Code into the form
Export form submissions
Get Export of Messages
Get PDF Export from a Conversion
Thank you page
Thank you message
Ready Email Templates
Add upload file to Response Box
+30 Input Fields
User-Friendly Form Builder
Good UX
Send Email Notification to Admin and User
Create multistep forms
phone number
net promoter score
five-point scale
Pie chart surveys
reCAPTCHA
Spam Protection
Visual Form Layout
Sample File Upload
Drag and drop upload file
Location Picker
Digital Signatures
Date Picker
Rating Star
Advanced Forms
Payment Forms
Stripe gateway
Heading Field
Ticketing system
State/Province Dropdown List
Manage Entries
Remove Easy Form Builder labels
Manage Response Box
Print a Message(responses)
Redirect Page
Send Email Notification to users
Edit The Email Template
Open/Close Responses(tickets)
Hijri & Jalali Date Picker
Easy To Use
No-Code
Manage responses and forms easily
New Input Fields
Arabic Date
Jalali Date
With Easy Form Builder, you'll have everything you need to create and manage professional forms with ease
Creating forms has never been easier with Easy Form Builder. You can design any type of form, including surveys, subscriptions, logins, registrations, and more. With support for left-to-right and right-to-left languages, you can cater to a global audience. The pro version also allows you to export your subscriber list and form submissions, making data analysis a breeze.
The user-friendly interface and good UX make form building a pleasure. You can choose from over 30 + input fields, drag and drop upload files, and even add digital signatures. Want to add payment options? No problem! Easy Form Builder integrates with Stripe gateway, allowing you to create payment forms with ease.
This tutorial will inform you how to activate your Easy form builder Plugin within your WordPress site.
Receive Your Easy form builder activate code
Verifying Your Easy form builder activate code
FAQ of Activate Pro version
First of all, be sure to install the easy form builder plugin on your site.
Receive Your Easy form builder activate code
1- Go to whitestudio.team and select the pro version + support form price list
Notice: the payment is made through Stripe and we do not store your card information on our website.
1: It is necessary to insert the Exact domain name(without www and HTTP/HTTPS) if you want to activate the pro version of the plugin on that.
2- Fill out the form and click on the register button
3- After your registration is done, you will get the code like the below image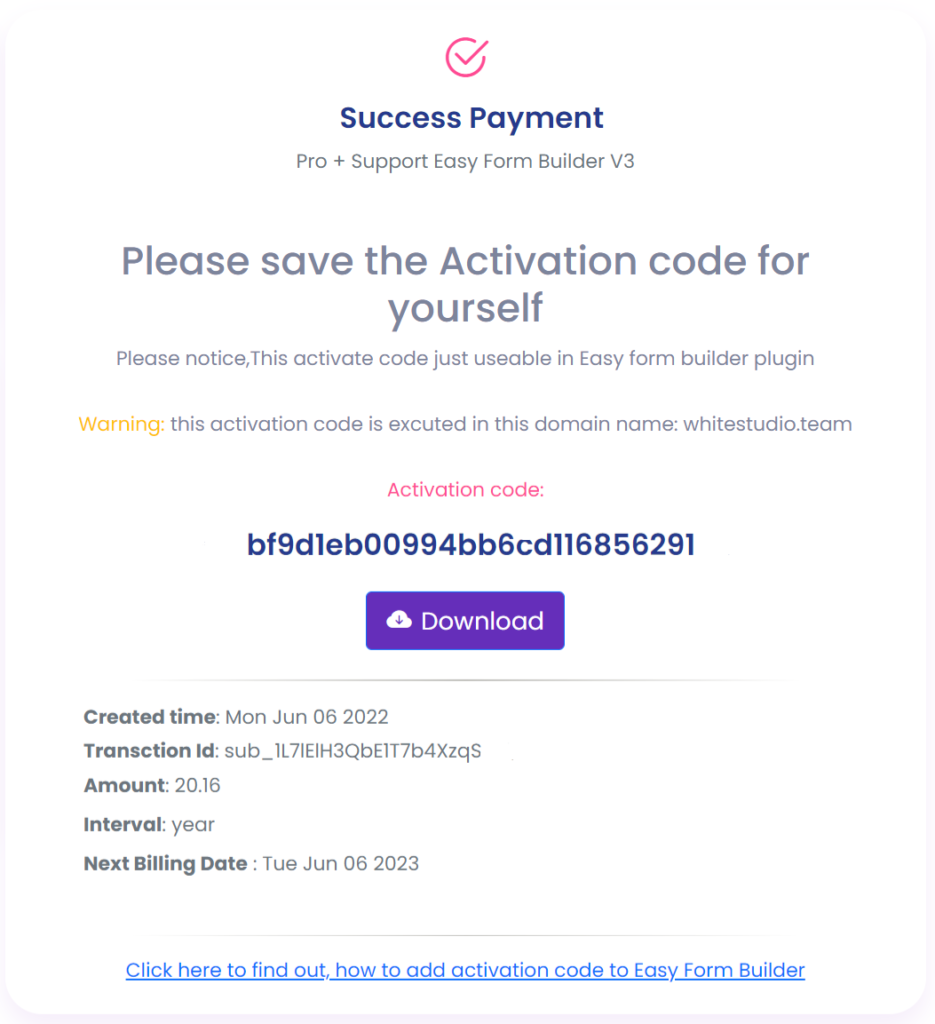 Notice: the activate code is just usable in the registered site
Verifying Your Easy form builder activate code
4- Go to your site and the admin panel of WordPress.
5- Go to the Easy Form Builder Plugin.
6- Go to the setting (you can find out form setting in the menu)
7- Enter the activation code on the input section of the Pro version and click on the save button
FAQ of Activate Pro version
How many sites can I use my Easy Form Builder license on?
A license (activation code) can only be used on a single site. Check out our pricing list for more information.
Do subdomains get counted toward site limits?
Each subdomain will count separately toward the site limit.
Upgrade to Easy Form Builder pro version today and take your forms to the next level.